Halestorm Branston Pickle
Imported 2019
'Pickle'
Stands 13.2hh ,  He is Registered and Licensed to breed in England (NFPB&CS) and in North America (NFPSNA).  Pickle was fully licensed and approved to run on the forest in England where he sired over 152 foals before being imported to Canada.
Pickle has an amazing temperament.  After running with mares on the forest he was taken in with only a handful of training rides and was ridden in the NFPB&CS Breed Show!  Then he surpassed expectations with impeccable behaviour on his flight overseas and continues to be a super star here in Canada.
Pickle has gorgeous expressive movement and had passed on a love of jumping to many of his offspring.  We are excited to have his foals here in NA.
His Sire:
Buckland Dragonslayer
(Bakeburn Benjamin X Monkshorn Raven)
His Dam:
Wellhouse Betsy
(Merrie Marshman X Pooh Bear)
Manoravon Master Majestic
'Mikey'
Stands 13.3hh with 8.5″ of bone. He is Registered and Licensed to breed with the NFPSNA. And was Inspected NASPR 1st Premium.
Mikey has super trainability and refines the mares he is bred to. He is intelligent, athletic and balanced. He is an all around stallion and his foals are proving the same. He has offspring Combined Driving, Eventing, Mounted Games, Endurance, Dressage and others with many doing several of these. He crosses very well with other breeds and has several cross breeds on the ground.
He was certainly a sound choice for our first stallion and we wouldn't change a thing.
His Sire:
Imported Stallion Woodrow Fieldmaster
(Peveril Peter Piper X Woodrow's Honey's Dynasty)
His Dam:
Forest Hill Jesse Belle
(Jacob's Pied Piper X Glovellen Jessie)
Fox Hollow Holly's Legacy (Deceased)
'Luke'
Stands 14hh with 8.3″ of bone. He is registered and licensed to breed with the NFPSNA. He was also Inspected NASPR 1st Premium.
Luke has presence in the ring with animated athletic movement. He has a super temperament and passes along his best attributes to his foals. He has been eventing and excels at Dressage and Show Jumping. His offspring are just beginning to show themselves and are proving to be elegant and showy. He is solid and easily competes with an adult. His presence and horse like movement leave onlookers and judges surprised that he is in fact a pony.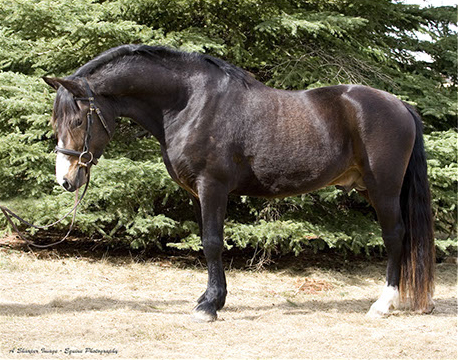 He has proven a super addition to our breeding program.
His Sire:
Imported stallion Luckington Legacy
(Katric Capers X Luckington Vintage)
His Dam:
Fox Hollow Heathers Holly
(Forest Hill Starborne X Jacob's Heather)