Priory Bryony
(AKA Abbey) Imported from England | Sire: Priory Tickled Pink | Dam: Priory Sweet Briar.
Abbey is my lead mare and is a proven producer of athletic competition ponies. She loves her job as a mother and teaches her foals respect and confidence. She is our first Imported mare and we are very glad she came to us!
Priory Bryony Foals:

PT Rockin' Robyn
PT Majestic Falcon
PT Princess Fiona
PT Lumiere
PT Meadowlark
PT Tiana
PT Faline
Merrie Marmalet
(AKA Marmalet) Imported Mare | Sire: Merrie Marmalade | Dam: Vernons Regina (Deceased)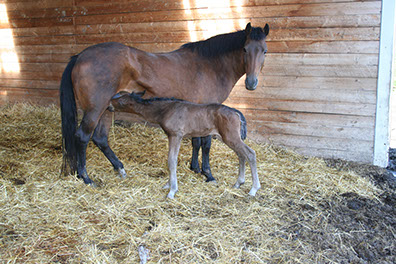 Marmalet is a more recent addition to our herd and we are happy to have her. We have seen what her offspring can do and are excited to watch Flynn Rider (Eugene) grow.
Merrie Marmalet Foals:

PT Flynn Rider
PT Celia
PT Pascal
PT Sullivan
PT Boo
Willoway Alice
(AKA Alice) Imported Mare | Sire: Peveril Peter Piper | Dam: Ashfield Patricia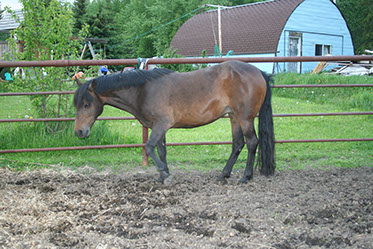 Alice is a sweet heart of a mare. Alice also the dam of NFPSNA's highest achieving awards program participant to date, Wicked Willoughbie. We are glad to have the opportunity to breed this fine little mare.
Willoway Alice Foals:
PT Cheshire Cat
PT Dinah
PT Tweedledee
Cheval de Bois Marie Antoinette
(AKA Marie)     Sire: Forest Hill Martian  / Dam: Jacob's Annette
Marie is a sweet mare we purchased to use in the lesson program where she flourished until we found out she was in fact pregnant!!  She has produced Premium Sport pony foals and has now also proven to be a lovely cross breeding mare with her Arabian cross filly. She  is  also  the dam  of  our  very  own  Lady  Clover.
Cheval de Bois Marie Antoinette Foals:
PT Delphine (Arabian Cross)
Lady Clover
(AKA Clover)    Sire: Jacodi's Anja's Amoz (AKA Forrest Flame) / Dam: Cheval de Bois Marie Antoinette
Clover is a lovely mare by Forrest Flame who is also the sire of Forrest Nymph (Intermediate Event Pony).  Clover has athletic ability and she passes that along to her foals.  Their temperaments are proving to be very personable and trainable.  We are excited to watch her offspring develop.
Lady Clover Foals:
Fox Hollow Holly Berri
(AKA Berri)   Sire: Fox Hollow Danny Boy   / Fox Hollow Heather's Holly
Berri is a super fun mare to ride.  She has just that little bit of spice that makes her a super partner.  She is athletic and level headed.  Although I really enjoyed riding her I will also enjoy seeing what she can produce!
Fox Hollow Holly Berri Foals:
Cinco de Mayo
(AKA Claire)   Sire: Luckington Legacy  /  Dam:  Willoway Peter's Pin Up
Claire came to us as a mature mare.  She is a half sister to Fox Hollow Holly's Legacy.  I started her under saddle and fell in love with her Dressage type movement and willingness to learn.  We decided to breed her and hopefully produce more fantastic elegant ponies!  (Photo available soon)
Cinco de Mayo Foals:
Fox Hollow Grey Willow
(AKA Willow)   Sire: Forest Hill Starborne  / Dam: Manoravon Danny's Princess
Willow is a sweet mare.  She was started later in life by my 10 yr old Daughter. Willow was brought through with Pony Club system where she has shown herself as a wonderful Games Pony.  I had to pry her away from my daughter to try and get a couple of foals from her while she is still young!
Fox Hollow Grey Willow Foals: