Lady Clover
(AKA Clover)    Sire: Jacodi's Anja's Amoz (AKA Forrest Flame) / Dam: Cheval de Bois Marie Antoinette
Clover is a lovely mare by Forrest Flame who is also the sire of Forrest Nymph (Intermediate Event Pony).  Clover has athletic ability and she passes that along to her foals.  Their temperaments are proving to be very personable and trainable.  We are excited to watch her offspring develop.
Lady Clover Foals:
PT Bobble 2017
PT Tinkerbell 2019
PT Fawn 2020
PT Terrance 2021
PT Silvermist 2022
Fox Hollow Holly Berri
(AKA Berri)   Sire: Fox Hollow Danny Boy   / Fox Hollow Heather's Holly
Berri is a super fun mare to ride.  She has just that little bit of spice that makes her a super partner.  She is athletic and level headed.  Although I really enjoyed riding her I will also enjoy seeing what she can produce!
Fox Hollow Holly Berri Foals:
 PT St.Nick 2020
PT Blitzen 2021
PT Rudolph 2022
Pferdetraum Charlotte
(AKA Char)  Sire: Manoravon Master Majestic / Dam: Gabriel Creek Shanti
Charlotte was bred on our farm, her dam being my absolute favourite eventing pony!!! She was sold and used for combined driving where she was very successful.  She is a very driven mare highly competitive and a bit hot.  She put her entire heart into everything she does!  We bought her back and she was able to do some lessons for the more confident kids and used for Mounted games.  She LOVES people and truly enjoys being the centre of attention.   We are so glad to have her back and have a new stallion to breed her to!  (shown driving with her full brother, Pferdetraum Black Beauty).
Pferdetraum Charlotte Foals:
PT Iron Man (Tony) 2021
PT Pepper Potts 2022
Spa Creek Chocolate Lady
(AKA Chocolate). Sire: Spa Creek Sundancer  /  Dam: Gabriel Creek Sandy
Chocolate is a lovely lady.  Was going under saddle and shows athletic ability and sensibility.  She came to us as a broodmare due to an unfortunate injury.  We are looking forward to seeing the foals she can produce.
Spa Creek Chocolate Lady Foals:
Pferdetraum Rockin' Robyn
Sire : Manoravon Master Majestic / Dam: Priory Bryony
Robyn is the first pure bred foal born on our farm.  She was sold where she had many wonderful adventures and has made her return home.  Robyn is a very versatile pony winning the prestigious MVP (Most Versatile Pony) with the NFPSNA.  She has done so many things from working cows, Cross country, Dressage, Endurance, Polocrosse, mounted games and more.  She has had a few foals with us before and we look forward to seeing how she produces with our Pickle.
Pferdetraum Rockin' Robyn Foals:
Pferdetraum Prince Naveen 2010
Pferdetraum Evangeline 2016
Pferdetraum Louis 2017
Mares for cross breeding:
"Goldie"
(Not registered but eligible JC) Sire : Excalibur Fox (TB)  /  Dam: La Nilla Indy (TB)
Goldie is a TB mare.  She was a bit of a rescue project as she came to us extremely thin and unhandled.  She is proving to have a sweet inquisitive personality and is enjoying herself and putting on muscle out on the pasture.  She has had a challenging life so far but seems happy now and we look forward to seeing what she can produce with our New Forest Stallions.
Goldie Foals:
TBA
Nakagawa
(AKA CJ ) Sire : Gold Case (TB)  /  Dam: T.V. Tour (TB)
CJ is an OTTB.  My Daughter rode her for a short time where she showed not only huge athletic talent but also a very sweet personality and a desire to please.  We are really looking forward to crossing these traits with our New Forest Ponies to get some Horse sized ponies for some of our taller clients.
CJ Foals:
Beloved Mares no longer breeding:
Priory Bryony (Retired)
(AKA Abbey) Imported from England | Sire: Priory Tickled Pink | Dam: Priory Sweet Briar.
Abbey is my lead mare and is a proven producer of athletic competition ponies. She loves her job as a mother and teaches her foals respect and confidence. She is our first Imported mare and we are very glad she came to us!
Priory Bryony Foals:

PT Rockin' Robyn 2008
PT Majestic Falcon 2009
PT Princess Fiona 2010
PT Briar Rose 2011
PT Lumiere 2013
PT Meadowlark 2014
PT Tiana 2015
PT Faline 2017
Merrie Marmalet (Deceased)
(AKA Marmalet) Imported Mare | Sire: Merrie Marmalade | Dam: Vernons Regina (Deceased)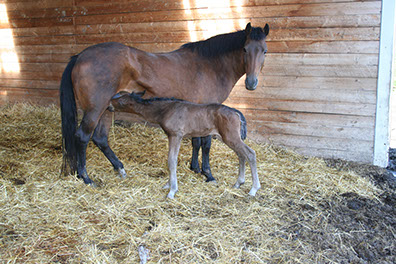 Marmalet is a more recent addition to our herd and we are happy to have her. We have seen what her offspring can do and are excited to watch Flynn Rider (Eugene) grow.
Merrie Marmalet Foals:

PT Flynn Rider 2014
PT Celia 2015
PT Pascal 2016
PT Sullivan 2018
PT Boo (deceased) 2019
Willoway Alice (Deceased)
(AKA Alice) Imported Mare | Sire: Peveril Peter Piper | Dam: Ashfield Patricia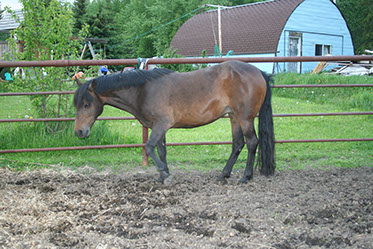 Alice is a sweet heart of a mare. Alice also the dam of NFPSNA's highest achieving awards program participant to date, Wicked Willoughbie. We are glad to have the opportunity to breed this fine little mare.
Willoway Alice Foals:
PT Cheshire Cat 2015
PT Dinah 2016
PT Tweedle Dee 2019
PT Queen of Hearts 2020
Cheval de Bois Marie Antoinette(Retired)
(AKA Marie)     Sire: Forest Hill Martian  / Dam: Jacob's Annette
Marie is a sweet mare we purchased to use in the lesson program where she flourished until we found out she was in fact pregnant!!  She has produced Premium Sport pony foals and has now also proven to be a lovely cross breeding mare with her Arabian cross filly. She  is  also  the dam  of  our  very  own  Lady  Clover.
Cheval de Bois Marie Antoinette Foals:
PT Delphine (Arabian Cross) 2018
Spa Creek Breeze (SOLD)
(AKA Breeze)  Sire: Wishing Well Even Steven.  /  Dam: Gabriel Creek Sandy
Breeze has been a barn favourite.  She is possibly the most intelligent pony I've ever owned.  Anyone can rider her right from complete beginners to students wanting a little more.  She has done cross country, Dressage, PPG , trail riding and taken countless people for their 'first ride'.  Although she has been super valuable as a lesson pony and everyones pony it is time to get a foal or two for others to enjoy.
Spa Creek Breeze Foals:
PT  Nimbus 2021
Other foals born at Pferde Traum Farm but not listed :
PT Majestic Star 2008 (Manoravon Master Majestic X Curly Horse Mare)
PT Splash 2008 (Manoravon Master Majestic X Paint Mare)
PT Tango 2008 (Manoravon Master Majestic X Princess TB)
PT Lina's Lily 2009 (Manoravon Master Majestic X Gabriel Creek Chantilly)
PT Prince Naveen 2010 (Fox Hollow Holly's Legacy X Pferdetraum Rockin' Robyn)
PT Batman 2010 (Manoravon Master Majestic X Dutchess STB)
PT Ariel 2010 (Fox Hollow Holly's Legacy X Cheval De Bois Chantilly)
PT Charlotte 2010 (Manoravon Master Majestic X Gabriel Creek Shanti)
PT Black Beauty 2011 (Manoravon Master Majestic X Gabriel Creek Shanti)
PT Prince Eric 2011 (Fox Hollow Holly's Legacy X Cheval De Bois Chantilly)
PT Morning Glory 2012 (Manoravon Master Majestic X QH Mare)
PT Melody 2012 (Fox Hollow Holly's Legacy X Cheval De Bois Chantilly)
PT Hamish 2013 (Manoravon Master Majestic X Wanbarrow Cottonwood)
PT Hope 2013 (Manoravon Master Majestic X Sister)
PT Zak Young 2014 (Fox Hollow Holly's Legacy X Spirit WB)
PT Evangeline 2016 (Fox Hollow Holly's Legacy X Pferdetraum Rockin' Robyn)
PT Scuttle 2016 (Fox Hollow Holly's Legacy X Cheval De Bois Chantilly)
PT Louis 2017 (Fox Hollow Holly's Legacy X Pferdetraum Rockin' Robyn)